Hello!
Welcome. Thanks for visiting my website. My name is Susan Wooldridge, and I invite you to check out my journal (blog) for glimpses into my life.  And visit my workshops page to see what's coming up.  A number of free workshops in northern California libraries are being scheduled right now.
I'm happy to report that a new book about land and language is taking shape. My most recent chapters are about scratch paper and stealing words. Aha, and a new chapter called "Hidden in the Open." Now I'm working on a chapter called "Boots" and another called "The Blue Wheelbarrow."  I'm loving the process.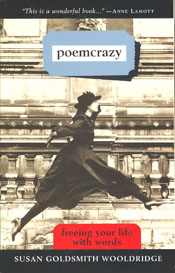 poemcrazy: freeing your life with words
Meanwhile, poemcrazy: freeing your life with words (in a 30th printing) has a life of its own and continues to bring surprise and delight into my world. It may well have brought you here.
---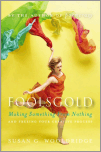 Foolsgold: Making Something from Nothing (and freeing your creative process)
Foolsgold helps people loosen up and encourage their hidden artist to come out to play.
---
Bathing with Ants (a small chapbook of poems) has invited a trail of Argentinian ants into my house. Be careful what you name your books! Luckily these ants don't bite and for now my kitchen is immaculate.
If possible, support a local bookstore and order books there. You might suggest they order several copies! Or if you want to order online, check out Powell's Books or Barnes and Noble.
For more information on each of my three books, click on the book links.
I'd love to visit your town, local library, living room (or kitchen!) for a workshop from two hours to two days. Contact me for creative play/writing evening, day or weekend retreats. Have pens (plus fool's tools) will travel! My rates are reasonable (and flexible). I love to work with all ages and levels.
I appreciate your comments and notes. Contact me any time.
Susan         suegwool@gmail.com
Susan leading her vowel chant as presenter at the Poet & Writers Org. yearly workshop leaders retreat in L. A.