poemcrazy: freeing your life with words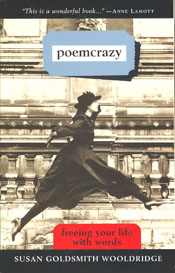 Anne Lamott, author of Bird by Bird,  writes, "poemcrazy is a wonderful book, smart, wide-eyed, joyful, helpful, inspiring.  You're going to love it and love writing poetry more for having read it. Poemcrazy (Three Rivers, Random House) was a Writer's Digest as well as a Quality Paperback book club selection, and though primarily a book for adults, was on the New York Library List of Outstanding Books for Teens.
poemcrazy, now in a thirtieth printing, is becoming increasingly well-known on campuses both to teachers and students of writing and creativity. It's been used as part of the core curriculum in places ranging from the Denver and Rhode Island Public Schools to Brown and Evergreen Universities, the Virginia Writing Project and the Guggenheim Museum Curriculum online. poemcrazy is on numerous lists of "bestselling" or "favorite" books about poetry on the internet.
Painters and songwriters as well as film makers and actors report that poemcrazy helps them loosen up, play and embrace a more creative way of being in the world. A photographer wrote in Camera Arts magazine that he uses poemcrazy in his "Photoshop Master" class because "it says everything about the creative process."
Purchase Info.
---
Bathing with Ants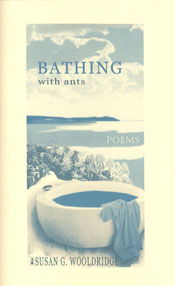 Poet Alison Luterman (author of The Largest Possible Life) writes, "Susan's poems arrive breathless with the wonder and power of language, drenched in the magic of the natural world, and touched with mysticism.  With one foot grounded in humor and the other in awe, she takes on topics ranging from driving a car full of vegetables to the eros of geese, but her true subject is always the mysterious intersection of the human and what lies beyond our power to describe."
Purchase Info
---
Foolsgold: Making Something from Nothing (and freeing your creative process)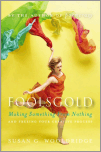 Foolsgold: Making Something from Nothing and Freeing your Creative Process (Harmony Books, Random House) was featured by Quality Paperback Book Club as well as One Spirit Book Club.
Filled with personal stories about transforming what life brings your way, Foolsgold helps open us to more creativity in all areas of our lives, with all the world as our "studio."
Rachel Naomi Remen, M.D. (author of Kitchen Table Wisdom) writes, "Foolsgold? ….in a word, beautiful. Beautiful, beautiful!  And, of course a book that may save your life."  My mom (who is featured in the book) says, "Read it!"
Purchase Info.
Be sure to check the calendar for readings or workshops near you.
Here's a quote from a chapter in Foolsgold called, "Freeing the Creek:"
"…..I'm gradually learning that, paradoxically, it's the blunderings, giving ups, breakdowns, in spite ofs, chance encounters, letting gos, and mess-ups, that have led to most of the creativity in my life, not the "enlightened" inspiration, and certainly not feeling in control. It's the listenings, buzz hums, the falling (leaping) down the rabbit hole, the stepping through the looking glass, barefoot, with no suitcase, in new territory."